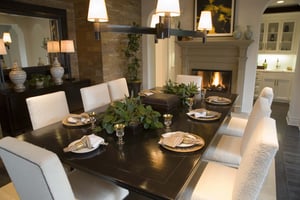 Your home has been looking a bit. . . dated. As you think of ways to refresh it, remember to keep your expenditure in line with the return on investment you're looking for. If, for instance, you've been looking at adding a formal dining room, stop and think about whether your Wallingford home renovation will result in a room that you and your family will use.
Ideas for a Home Remodel
Whether you're remodeling your home to update it or because you plan to sell it several years down the road, it's good to brainstorm some definite ideas before you hire a home renovation contractor. Begin your planning by determining whether remodeling part of your home will add to its value or if it will simply add unused space to your home. The most popular remodeling ideas are:
Adding an additional bathroom.
Upgrading your kitchen
Enlarging your kitchen by combining it with your existing dining room
Before you start working on your dining room, decide what kind of space you're looking for and what sort of vibe you want it to have.
Is a Formal Wallingford Dining Room a Good Idea?
If your family hosts several parties and gatherings every year, a formal dining room may be a good investment to make. And if you frequently entertain business associates and need to make a good impression, it can definitely become one of your home's assets.
Before you make the decision though, think about the other homes in your neighborhood. How many of them have formal dining rooms? What are the values of these homes? Are the families perhaps living in a home that's worth more than their investment?
How Today's Families Live
Today, family homes are busy, active and bustling environments. The kids are involved in sports, drama and music. Both parents may work. One parent may work from home, which means that at least one room in the home needs to be multi-functional. If this sounds like your household, it's time to slow down and think before making any irreversible decisions. Sit down with a builder and discuss your thoughts. You may realize that rather than creating a formal dining room, your family might get more from an open space design. A builder should be able to steer you toward a remodel that actually fits your family's needs.
Where Today's Families Eat
Think about your family's current lifestyle. Everyone is busy and running from one obligation to another. Is that likely to change, now or in the future? Do you all sit down with each other for an evening meal? Does this happen consistently, or are sit-down dinners with your spouse and children more of a hit-and-miss arrangement?
If everyone grabs a meal and eats it standing at the kitchen island before taking off, a formal dining room might not be the best choice. You may be better off adding to or enlarging that kitchen island, knocking down a wall (or part of a wall) to create a larger space or even doing both. You'll be able to add a small table and chairs so you can eat together when everyone is home.
A Kitchen Remodel
The homes of today boast open floor plans. That is, builders are creating homes with enlarged kitchen/dining/living room spaces that are actually in tune with how families live.
An open floor plan is perfect for those times when you get together with family and friends—or when your kids are gone for the evening.