Grungy To Gorgeous – Turn Your Wallingford Garage Into Something This Summer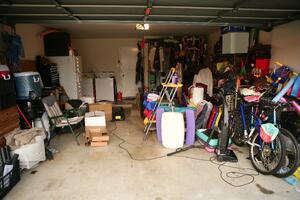 You've finished with spring cleaning, but the garage still looks dumpy. Old boxes litter the walls, and a grease stain has anchored itself to the center of the floor. Couldn't this space be used in a better way?
We're here to help. Today, we talk about a few ideas for garages, which we've discussed in a previous post. Summer is prime time for a project like this—so plan that yard sale you've been talking about.
Think about possibilities. Some garages lend themselves well to be turned into studios with full bathrooms, while others lack the hookups for water lines and electrical for this, and make better gathering spaces such as patios. Work with a qualified contractor to assess what will work with your space, and what is allowed in your area as far as zoning, building codes and how many permits you will need. This is an utmost priority when planning any project, but for visible projects, it's even more essential.
Divide the space into areas or rooms. With such an expansive area, you simply need partitions to give the space order. Decide where people will sit, if the space will be a patio, or talk to your custom remodeling professional about options for your Wallingford garage remodeling project.
Go vertical. Keep the storage aspect of the space—put shelving near the ceiling to accommodate those dusty boxes that didn't make it out during the yard sale. Hang brooms, bikes, golf clubs and umbrellas on the wall so they don't clutter any corners or take up floor space. Hang baskets to store gardening or home improvement tools. Use tall cabinets that reach the ceiling, so there's space for any miscellaneous junk. Your garage may be large, but these moves will keep the floor space free for the prime uses you really want, like an office, bedroom or play area for the kids.
Think outside the box. Your garage may seem like a lost cause, but consider possibilities instead of restrictions. It may be possible to create an office, a band practice room, a gym, or a photography studio if you have the commitment and the creativity. While the rest of the home may be a modern style, the garage is a perfect place to go a little rogue. Paint the walls purple or install an aquarium.
Talk to your local Wallingford garage remodeling contractor about how you can create your dream space—right inside your own home.