CT Homeowner Tips: Why Smaller Homes Benefit From Outdoor Kitchens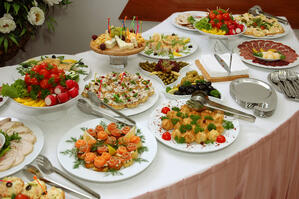 Today for our CT homeowner tips, we focus on a few tips for homeowners in Connecticut, especially those who live in smaller homes. An outdoor kitchen is a particularly helpful solution to that ever-arising problem: where to put the guests during a party or gathering. And it may not be as expensive as you might think.
First things first: location. Keep the outdoor kitchen as close to the indoor one as you can. No matter the size of your home, this will save you hassles when carrying preparation items or meals from inside to out. This means that if your kitchen is in the front of the home, an outdoor kitchen might not be the best solution for you. Talk to your Wallingford custom homebuilder about options in this case. Also, don't forget about flooring. Make sure the outside surfaces are smooth for the times when you're walking with heavy plates or mountains of food.
Also, remember: This kitchen is going to be outside. Durability is of utmost priority here, especially if you want your kitchen to make it through a Wallingford winter. Go for stone veneers, which are lower maintenance; this way, you won't worry about painting or sealing every year or two. You can try cementitious cultured stone, which is lighter, just as durable as the "real" stone and can be cut much faster. Stucco, tile or slate work great as well. Best of all, it looks just as nice and natural as stone. Also, consider a cover for the kitchen to both weather-proof it and lengthen the amount of time each year that you can use the space.
If you want to keep things simple, go for a basic island that will allow for food prep and hanging out. You can place stools on the opposite side of the cooking area, for guests to hang out while the host prepares food. If you typically have big groups when entertaining, go for a larger grill at least 36 inches or even larger. For smaller spaces, consider portable units that you can put away and use the space for other things. For convenience, make sure the kitchen has a sink and refrigerator—your contractor may need to install hookups or extra lines for this, so make sure you plan extra time. And don't forget electricity—ask your contractor about options for installing some power outlets, so that you have flexibility when entertaining outside. This way, you don't have guests tripping over extension cords in the doorway to the outside area.