How to Choose the Ideal Agreement with A Custom Homebuilder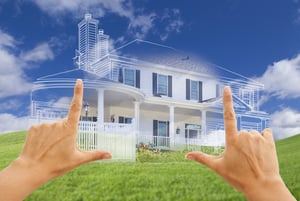 Most people love the idea of building a custom home, but when it comes to the nuts and bolts of the process, they're not sure exactly how anything works. So we decided to look at the various forms of construction contracts out there, as the contract is one of the first steps in the homebuilding process. Here are some of the more common types of construction agreement – and the pros and cons of each:
Lump

Sum

or Fixed

Cost
With lump sum or fixed cost projects, the contractor or homebuilder will give you an overall price for the work to be done (building your home or undertaking the specified renovations); this will be a fixed, predetermined sum. The benefit of this type of project is that there are no hidden costs unless you make changes, but the downside is that if your contractor makes a mistake, they might back out of the deal.
This is the most common type of agreement used when building custom homes, and this is the form of contract we use.
Cost

Plus
Cost plus is not a form of contract you will see very often. In most cases, these types of contracts are used for extras on larger construction projects or for smaller renovations or additions to your home.
The benefit of this type of project is that you will only ever pay the cost of materials and labor, plus a predetermined markup; the downside is that this is not really suited to larger jobs, and it's only likely to be an option when working with smaller, less experienced renovation contractors.
Unit

Rate
Unit rate contracts are rare in residential construction, and it's unlikely you will see this type of contract during a custom home process. Here, contractors provide unit rates for various trades and elements of the project. The final cost on this type of project is often re-measurable based on quantities, which can also mean that there could be significant increases or decreases in cost.
Base Plus Upgrades
Another common type of contract or agreement in the custom home business is for a home based on a typical floor plan with rates for specific additions. These may be by room (for instance, the additional cost to add a garage) or by upgrade (switching out laminate floors for hardwood.) Most custom homebuilders will already have a list of rates for standard floor plans and upgrades, so you can make choices based on a "menu" of options.
This is a variation of the classic fixed price contract and is often used to provide a quotation or estimate on custom homes.
Find the Right Agreement for You
Choosing a contractor is as much about credentials, experience and track record as it is about pricing and the homebuilder's proposal. Different agreements have different payment terms too, with some requiring a minimum up-front percentage and others based purely on progress. Make sure you ask your contractor how their standard agreements work, what is included, what's not and how your payments will be structured – before you sign on the dotted line. And remember, reputable contractors will always be honest and above board, so if anything feels odd or if you don't understand something, be sure to ask.