Form Or Function? What's More Important For Your CT Kitchen Remodel?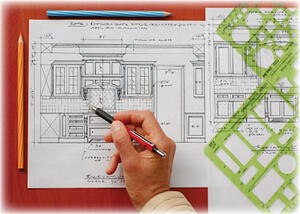 If you've decided it's time to remodel your kitchen in the Meriden or Middletown area, you'll find yourself faced with all kind of questions about cabinetry, appliances, counter top materials, sinks, floors, lighting, and more. And while the number of questions can be a bit overwhelming, it can actually be a fun and fascinating process to work through. And it can be really rewarding as well. After all, your kitchen is where so much of the personality of your home is on display—both for your family and for guests.
In the midst of all the questions about your kitchen remodeling project, however, there is one question that always tops the list—or at least it should: Is form or function more important in kitchen design?
It's really a bit of an unfair question, because form and function aren't necessarily mutually exclusive. They can coexist rather nicely together, but it takes a little bit of thought up front to make that happen. It's easy for homeowners to get excited about cabinets and flooring material and counter tops—and all of the things that make your kitchen aesthetically pleasing. And that's a good thing. You should get excited about how your kitchen will look. But it's important to keep in mind that the kitchen—in addition to being a room where people love to congregate—is a hard-working room. It's not just a place to gather, it's a place where work gets done.
So before you pick out color schemes and cabinet styles, you'll want to make sure your kitchen designs reflects the kind of work you do in the kitchen. Here's what I mean by that. A lot of us enjoy watching gourmet-cooking shows on television. If that's really the kind of cooking you'll be doing, then you'll want to set your kitchen up that way—both in terms of the kind of work space you have and with regard to the appliances you'll install. If, on the other hand, your kitchen is more of an entertaining kind of kitchen, you'll probably want to pay more attention to making the room more comfortable for guests (although, you'll still want to make sure you have a good "work triangle" for the food preparation you do).
You'll also want to think about other activities that go on in the kitchen. Will your family eat a lot of meals in the kitchen? You'll want to allot space for that. Will the kids be doing homework or projects there? You probably won't need to build in a desk (that's kind of a dated kitchen concept), but you will want to allow counter space.
If you're looking for some help in thinking through how to design your kitchen (before you actually get around to the plans), I'd encourage you to download our free Design Your Ideal Kitchen e-book. It will help you create a kitchen that fits your style and gives you better usability. And it's got ideas for making your kitchen look great, too. You don't have to choose between form and function in your kitchen—but you need to think about both of them before your get started.