CT Kitchen Remodeling and Color: Can You Have Too Much of a Good Thing?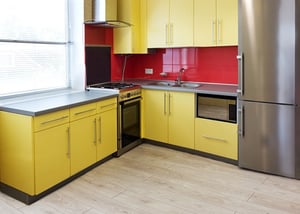 There is a great scene in the blockbuster film"Jurassic Park" in which Dr. Ian Malcolm (played by Jeff Goldblum) challenges the whole concept of the park, saying, "... your scientists were so preoccupied with whether or not they could that they didn't stop to think if they should." It was the first sign that the amusement park might not turn out exactly as planned.
Choosing a kitchen color can be a little bit like that. When you're building a new home or remodeling the kitchen in your existing Connecticut home, you have a blank slate when it comes to choosing color.Color is one way to let your personality shine through. But (to paraphrase Dr. Ian Malcolm), "just because you can doesn't mean you should." Can you have too much of a good thing when it comes to color in your kitchen?
Online sites such as houzz.com can offer a bit too much encouragement in this area. It's easy to find brilliantly colored kitchens highlighted there. You don't have to look far before you find bright yellow, glistening green or cobalt blue kitchens that have plenty of pizzazz. Talk about "kitchens with character." Some of these kitchens have character to spare!
When choosing the color for your Connecticut kitchen, should you throw caution to the wind and shoot for something that makes your kitchen really stand out? Here are a few things to consider before you decide.
Photos Versus Reality: There's a big difference between looking at a well-lit photo of a cozy country kitchen in an eye-popping colorand actually living with that color day after day. If you get tired of looking at a photo of an intensely colored kitchen, all you have to do is click on another picture. When it's in your home, however, you're kind of stuck with it. You can repaint, but that's time-consuming and costs money. Think long-range when choosing your color.
Keep Style in Mind: Bright colors can really work well in certain styles of kitchens. Bight yellows and blues may look great in a country kitchen. Deep reds can be a knockout in a sleek, modern kitchen. But what if your home style (and kitchen style) is more traditional? Sometimes the combination just doesn't work.
Differentiate Between Accent and Dominant:Some colors work wonderfully as an accent but are overpowering as the dominant color in a kitchen. With powerful colors, a little bit goes a long way. So when you read about "hot" new colors that are trending, make sure you're clear about whether the color is being touted as a main color or an accent. And remember, you may be able to use your backsplash to introduce a favorite complementary color rather than painting a whole wall in the trendy hue.
When all is said and done, it is your kitchen. You can do whatever you want with it. Just keep the sentiment from Dr. Ian Malcolm in mind: "Just because you can doesn't mean you should!"