Understanding Your CT Home Warranty: What It Covers and What It Doesn't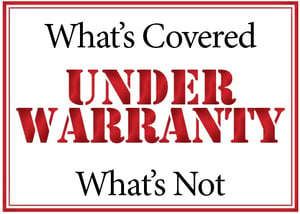 One of the great things about building a new home is that everything is new! Not just the paint on the walls or the hardwood floors or carpets; it's all new—and you expect it to work like new. Even with new products, however, you can have the occasional glitch. So what's covered under your home warranty?
New homeowners can be a bit surprised. Here's a quick overview of what's covered under your home warranty and what isn't so that you can be prepared.
If you check out the warranties for most builders, they offer limited coverage on materials and on the workmanship that go into the building of a new home. Most builders will provide 12 months of coverage on those things, generally covering items such as siding, stucco, doors, trim, drywall and paint.
Here at Sunwood, we're confident in the work we do on your home and in the building materials we use. That's why we actually offer a full two-year warranty so that our clients can have an added level of confidence that they are getting a quality builder and a quality home that meets or exceeds their expectations.
Even so, it's important for a new homeowner to understand what is and is not covered under a new home warranty. Household appliances (refrigerator, stove, garbage disposal, washing machines, etc.) are not covered by your homeowner's warranty. Those items are often covered by a separate manufacturers' warranty. You're probably going to be covered—but you won't go back to your builder if there's a problem; you'll deal directly with the manufacturer.
It's especially important to know what your builder doesn't cover. Cosmetic cracks in brick, cement, tile or drywall naturally occur in most homes. If there's a structural or safety issue, your builder should take care of it, but hairline cracks and imperfections can happen on any building project.
As important as a good warranty may be, what really matters is how your builder responds to any problems or issues you may have. You want to have a builder who aims to make you happy and to eagerly do whatever is reasonable—regardless of what your warranty says.
By all means, check out your prospective builder's warranty, but also make sure you listen to the comments of past clients. Their experience will tell you everything you need to know about how their builder has treated them.