How to Design the Perfect Bathroom
Have you ever been in a newly remodeled bathroom that just made your jaw drop? Rooms with that kind of "wow" factor don't just happen. They take some work, but that work doesn't start when the remodeler shows up with his tools. As a matter of fact, the work starts before a designer begins putting his pencil to a plan (or starts moving the cursor on his computer screen). And guess who needs to start this work? You!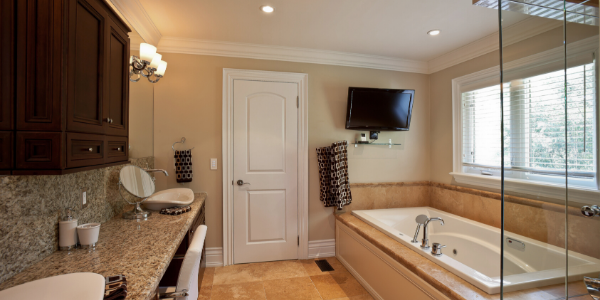 Questions to Ask Before Designing Your Bathroom
Before you get too wrapped up in picking out fixtures, vanities, tile, and color schemes (as important (and fun) as that may be—step back and think about what you want your bathroom to be like. This is a critical step because if you don't know what you want, it's tough for a designer to draw up a plan. Here are a few questions to get you started.
Who Will Use This Bathroom?
Are you planning a "family" bathroom or one that is for adults only? Will there be adequate space to accommodate everyone comfortably?
How Many Bathroom Sinks Do You Want?
Maybe there will just be two of you sharing the space, but do you want to share sinks or separate them?
Will You Have Enough Bathroom Counter Space?
Think about the current space and if it's too much, not enough, or just right. Can your designer "engineer" more space if you need it?
Bath or Shower?
Do you want both options? What about adding a whirlpool or a spa? Do you want to separate the bath/shower from the sinks?
Have you Included Enough Bathroom Storage Space?
Homeowner often overlook this and then wonder where they're going to put things like toiletries, first aid, medication, and cleaning supplies. Talk to your remodeler about "finding" extra space in your bathroom. That might mean built-in shelving that takes advantage of unused space between the studs in your bathroom walls for shelving that can accommodate towels and other items. Or, if you have a cabinet that extends from the wall, check out the possibility of recessing it to free up more space.
What About Bathroom Lighting?
You might want brighter lighting for makeup and shaving, but softer lighting for the shower/bathing area.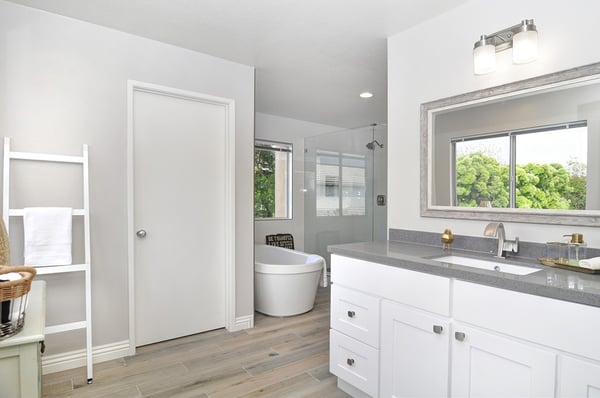 Remodeling Tactics to Make Your Bathroom Feel Bigger
One reason many homeowners take on a bathroom remodel is that they want a little more "elbow room" in their master bath. If you and your partner are juggling and struggling with "sink space" it doesn't make getting ready for the day much fun.
But what can you do when the physical or architectural limitations of your existing floor plan make expanding your bathroom impossible? Is there a way you can make your bathroom look and feel larger—even if you're not adding square footage?
There are some simple ideas that can give your new bathroom a bigger feel—even if changing the physical dimensions isn't an option.
Bathroom Colors
When you select your paint, think about using a lighter-color paint for your ceiling than the paint you'll be using on your bathroom walls. This little trick can create a visual impression of a higher ceiling. That can make your bathroom feel like there is more space. In the same way, putting in a darker colored floor establishes an impression of a dropped floor—an impression that can visually lengthen your bathroom.
Choose colors that expand, not contract. Light colors will brighten a small space and allow the eye to relax, while dark colors will make a small space feel even more constricted.
The current trend when it comes to choosing colors for your bathroom remodeling is to create a peaceful and soothing environment by using a palette of cool, neutral and light colors which complement each other. Colors such as off-white, beige, olive, cream and others are very popular at the moment for bathroom remodeling. Neutral colors also make it easier for the homeowner to sell in the future.
Bathroom Lighting Ideas
Homeowners are sometimes surprised by the big impact lighting has on a room—even a bathroom. It's not just the type of lighting that makes a difference, either. How you position the lights plays a significant role as well. By directing the lighting upward, you can visually extend the size of your bathroom.
Recessed Lighting
Consider using a spotlight bulb instead of a floodlight bulb for a more even distribution of the light. And when it comes to fixtures, here's a rule of thumb to keep in mind: if you have a 12-foot wide room, you probably shouldn't use anything wider than 24 inches in diameter.
Accent Lighting
Accent lighting can also help you set the mood in your bathroom by drawing the focus of the eye to the pleasant features in the room, while creating the feel of a larger room at the same time. And if you have nice crown molding on your ceiling, you can also use accenting lighting or indirect lighting to highlight that feature.
Natural Lighting
Using more natural light can make a smaller space feel bigger and less cramped. Even if you don't have the option of expanding the square footage, you can let additional natural light in with larger windows. And while you'll want to think about privacy, high windows (that extend to the ceiling) may be an option for letting the light in.
Another popular trend for bathroom remodeling is bringing in skylights and windows. Since you don't want the entire neighborhood to see you when you are in the bathroom, there are many options for decorative glass which lets the light in but conceals the view.
Shallow Cabinets
If you're short on square footage, you can allot more space for the shower and bath if you're willing to compromise a bit on storage. Make drawers shorter and closer to the walls, and add more of them up the sides of the walls to keep the storage but retain walking space.
Make use of open lines
Incorporate some lines moving across the walls, which helps to elongate the space and make it feel larger. Accentuate mirrors, use lots of them, and don't use frames so they make the space feel more open. And if you have a small shower stall, remove any curbs or steps to the shower. This helps to make the space feel more open as well. Ditch the shower curtains, which constrict the space and instead use glass doors. If you're using tile on the floor, use a consistent pattern instead of breaking it when you get to the shower area.
Sink shapes and sizes can help.
Try a pedestal sink, which will allow more space for feet movement. If you need a cabinet sink, opt for a circular one over a square – it will give you more counter space and appear softer on the eye.
Space-saving toilets.
Consider a wall-hung toilet, which will save those extra few inches of floor space. Actually, this can save up to 10 inches – which is big if you have a small bathroom.
Remember ventilation.
For Middletown bathroom design, a smaller bathroom is more prone to mold because it doesn't have as much space to spread out all the moisture and steam generated in a typical bathroom. Spend a few extra bucks on a good fan or ventilation system.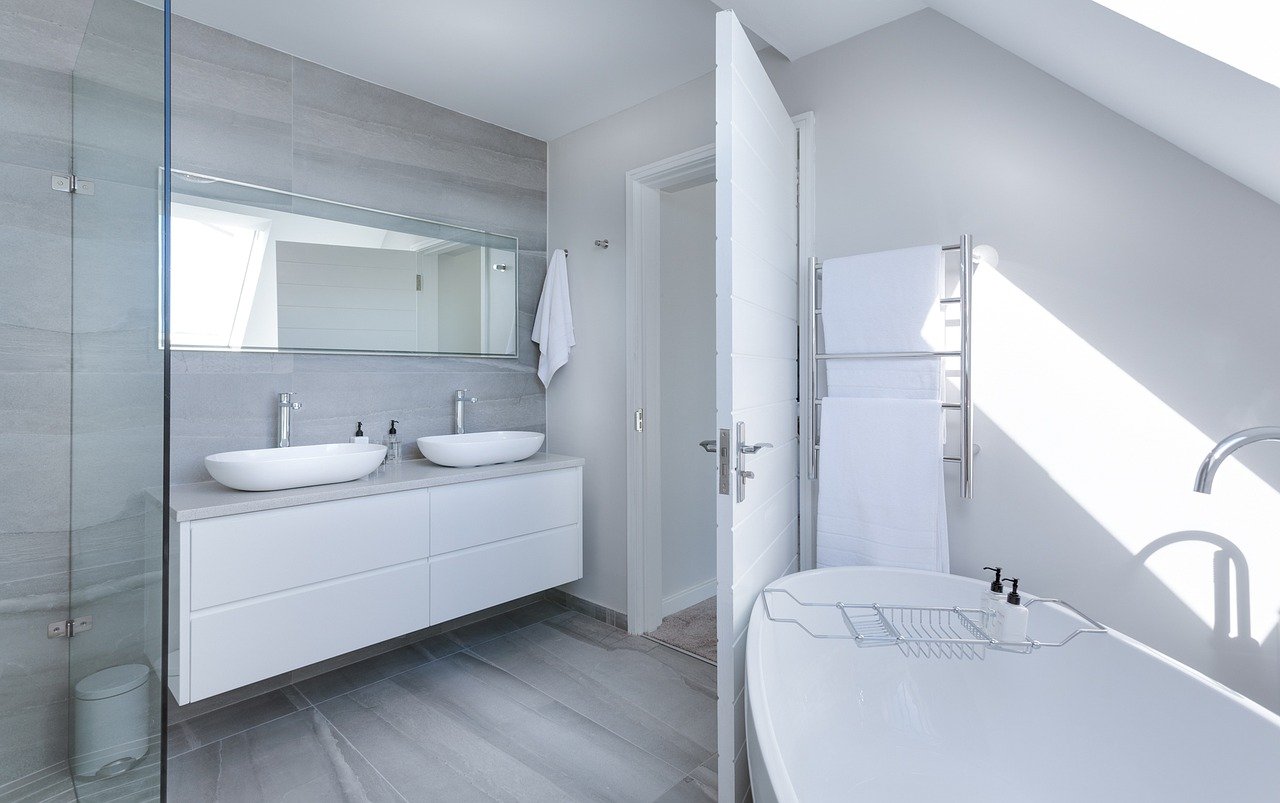 Bathroom Features to Consider
There are times when more space isn't necessarily the solution to a more comfortable bathroom. Here are a couple of additional ideas that can make your bathroom feel bigger and more comfortable.
Upgrade Your Shower
One trend we've observed over the past few years is that many homeowners are willing to forgo a traditional bathtub in their master bath, particularly if there's another tub in the home. Often they are replacing the tub with a larger, walk-in shower that looks great and gives them more space. It's also a good consideration for more mature homeowners who are thinking about how their homes can continue to meet their changing needs. They get the benefit of a bathroom that looks great, feels better, and is safer for them in the long run.
Bigger isn't always better when it comes to your master bathroom. But it is important to have a bathroom that feels adequate for your needs and looks great, too!
Green Bathroom Features
A popular question is: how environmentally friendly is it? Homeowners are looking to reduce utility costs and decrease impact on the environment with low-flow toilets, special shower heads and much more. A low flow toilet has two buttons, one which releases a little water and one which releases more water when it is needed. There is also the on-demand water system which heats the water only when you need it so that your water heater will not need to use energy keeping it hot.
Heated Bathroom Flooring
If you have ever stepped from a hot bath onto freezing tiles in the winter, you will understand why this luxury is becoming even more popular. It doesn't have to be as expensive as you might think, as there are systems available which install a mesh under the tiles which can be connected to a thermostat on the wall.
Hire an Interior Designer
Interior designers aren't just for the rich and famous anymore. They're affordable, often self-employed professionals who can take a remodeling project from good to great in your home. All in all, a professional designer can create a plan that uses the square footage you have available in the most efficient way possible. They will also be up-to-date on the latest design trends, and can often find ways for you to save a little bit of money too.
When looking for a designer that suits your needs for Wallingford bathroom remodeling, look for one that has:
Certification from the National Kitchen and Bath Association as a CBD, or Certified Bath Designer. This certification shows that they have completed detailed professional training in the field and qualifies them to do the work.
A portfolio with past jobs that match your taste. Page through the portfolio they offer you at their site or on their website.
If you're looking to take on a Wallingford bathroom remodeling project and you'd like more guidance, we are the right contractor in the Sonoma, Willows and Wallingford areas! Give us a call today.