Wicked Walls – How to Choose Your Connecticut Color Palette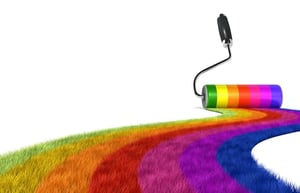 You've been busy making decisions about the house you're having built. From floor plans to other design aspects of your new dwelling, you feel like your head is about to pop with all the details you have to keep track of. Don't forget one crucial addition to these details: wall colors. What? You mean you have to make even more decisions? Yes, you feel like running into a cave and hiding, but the end result will be worth it.
What Kind of Color Patterns Do You Already Have?
Make this process just a little easier on yourself. Look through the items you plan to move into your new home. Specifically, look at the colors of your rugs and upholstery. If you have collectables and artwork, look at these, too.
Do you see a color theme? If so, you should be able to decide if you want to use one of those colors for your walls. Or you may decide to go complementary with neutral colors, such as beige, greige or white.
"POP" or Go Softer?
You have a favorite color or colors. There's no rule in home ownership or design that says all walls in every house must be white. Truly! If you still want some walls to be painted a neutral color, that's fine, but why not go with a bold color for the dining room, kitchen or living room?
If you love dark red or a bold blue and your furnishings will go well with your favorite colors—which is more likely than you'd think—then opt for a bold paint color. To make it easier on your eyes, paint the rest of the house in lighter, gentler colors.
What Rooms Adjoin Each Other?
Draw up a simple floor plan. Standing in an area of the house where you can see into several rooms, fix in your mind which rooms these are. It's generally the living room, dining room and kitchen. Standing in the hall, you may be able to see into at least one bedroom or the home office.
In these areas, you'll have to choose more neutral colors or colors that go well with each other. If you want to have several wall colors throughout your house, you may consider using shades or tints of the same color. For instance, the hall can be painted in one color, such as blue. For the rooms that go off the hallway, choose either shades or tints. Tints are lighter versions of the color you chose and shades are darker.
Should Your Kitchen be Colorful or Neutral?
You and your family are going to spend much of your time in the kitchen, once you move in. Aside from other rooms, such as bedrooms or bathrooms, this is the one room in a home where the family gathers and spends most of its time.
This is why the wall color you choose here is so important. Think about your color tastes as you narrow down the paint color for your kitchen. Your kitchen's style also affects the paint you'll choose. If it's a country-style kitchen, you can easily choose a bright, bold color. If, however, you are having a gourmet kitchen built, you'd do better in choosing a lighter color, such as gray.
Now that you know you still have some choices to make, create your own color swatches. By doing so, you'll know that the colors you ultimately select will be truer, better complementing your furnishings.