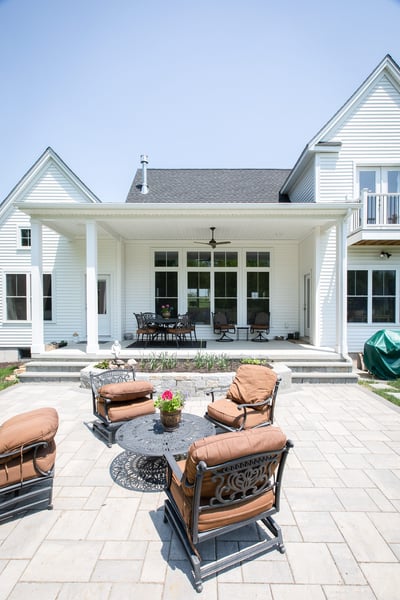 Outgrowing Your central CT home?
The Greek philosopher Heraclitus famously said, "change is the only constant in life." That certainly seems to be true when it comes to family life. What if your home no longer meets your family's changing needs? If moving often isn't the best option (particularly if you're happy with your current location), you may want to consider some custom home additions to create the spaces you're lacking. Whether you are expecting a new baby, or anticipating older parents moving in, expanding your home might be the best move. Let's take a look at a few ways you can create your dream home with an addition.
View Our Addition projects
Home Additions in Central CT

In-Law Apartment
Multi-generational households have been on the rise for a number of years in the United States. Careful planning is required in order to successfully accommodate having your parents or in-laws living with you. An in-law suite that has a separate entrance and its own bathroom facilities can be a great solution. It provides privacy for everyone and allows close proximity for aging parents who might want a little extra help. You might even want to create a kitchenette in the plan so that your elder houseguests can have some meals independently.

Above-Garage Room
One of the most under-used spaces in a home may be the space above your garage. It's not that difficult to turn that unused space into a well-insulated "bonus room." It could be a playroom for younger children. Or it could be a hangout for your teenage kids—allowing them to have some space where they can entertain friends. Wouldn't you rather have them hanging out in your home instead of somewhere else? If you have a detached garage, you might even think about building a covered breezeway between the house and the garage.

Finished Attic
Your house's attic is another space that's easy to overlook. While your attic may not be a great place for older family members, it can be a suitable bedroom area for a teen. You could turn it into a home office that's removed from the noise and distractions of the house. However you decide to finish that space, you'll want to consider insulation, electrical needs (including lighting), and possibly plumbing. If you're having a hard time imagining your attic as usable space, you may want to talk to your builder/remodeler. He or she is used to seeing potential where you perhaps don't.

Built-Out Kitchen
It seems obvious that bigger families require more space. But it's not just more bedrooms that you need. Spaces that you share together - such as your kitchen or your family room - need to be able to handle increased traffic. Sometimes the solution isn't just more space, but space that is better designed to meet your needs. That may involve moving (or removing) a wall to create a better flow. Obviously, that's not something you'll want to try on your own, and an experienced builder/remodeler will be able to tell you which walls you can move and which you can't. Your builder can also help you maximize whatever space you have available. Learn more about kitchen remodeling here.
01 | Interview
Homeowner searches for contractor + contractor begins the interview process.
02 | Design
Homeowner trusts the contractor + contractor gives detailed plans and specifications.
03 | Construct
Homeowner is in control during remodel process + contractor provides clear communication.
04 | Enjoy
Homeowner is happy with results + contractor provides fair pricing for everything.
Are You Ready to Remodel?