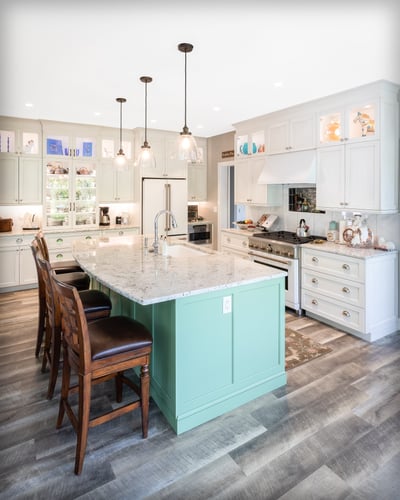 turn up The Heat in your CT kitchen
The kitchen is one of the toughest rooms to remodel because there are so many decisions you have to make to get it right. Kitchen remodeling is worth the effort though—the kitchen is the heart of your home. We're here to help get you started!
View Our Kitchen projects

Budget
Understanding what your Central CT kitchen remodel might cost is an important first step to aligning your plan, your budget, and the results you desire. First, it's useful to identify how much you should spend on your kitchen renovation project in your neighborhood. Set a realistic budget that doesn't cost more than 6% to 10% of your home's overall value for a complete kitchen remodel. That way you're less likely to over-capitalize and can expect to recoup a higher percentage of the cost. Next, connect with your financial team to talk about your financing options if you plan to use a loan to pay for all or part of your remodel.

Choose a Style
What's your dream kitchen going to look like? What kind of foods do you typically prepare? Do you envision a gourmet kitchen? A kitchen for entertaining? A family-orientated kitchen? Consider the following: are you going to eat in the kitchen, or just prepare food? How many people are likely to be keeping you company while you work? Do you want to be able to interact with your living or dining room, or do you prefer peace and quiet while you cook? Will your equipment include a dishwasher, and if so where should it be located? The answers will help you to determine fixtures and fittings, storage needed, and what your layout is going to be.

Create a custom floor plan
The layout is the first consideration for a well-planned kitchen space in your Connecticut kitchen remodel. Your kitchen needs to reflect your lifestyle, accommodate your cooking requirements, give you the space you need for eating, and provide plenty of storage. Don't stick with your current layout just because it's there.
Think about the flow you need when you're working, how you typically move between the workspace and the sink, for example, and how effective the space is when more than one person is cooking.

Find the right finishes
Once you know what fittings you're going to have and how your kitchen will be laid out, the next—and often most exciting—step is to choose the finishes. Some of the finishes currently popular for a Middletown home remodel are luxury laminates, engineered stone, soapstone and stainless steel. Whether you go for classy-looking granite countertops and a hardwood floor, or you choose ceramic tiles and wooden butcher's block working surfaces, your options are limited only by your budget and imagination.
01 | Interview
Homeowner searches for contractor + contractor begins the interview process.
02 | Design
Homeowner trusts the contractor + contractor gives detailed plans and specifications.
03 | Construct
Homeowner is in control during remodel process + contractor provides clear communication.
04 | Enjoy
Homeowner is happy with results + contractor provides fair pricing for everything.
Are You Ready to Remodel?