How to Evaluate Your Middletown Custom Home Builder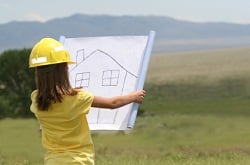 If you're serious about building a custom home in the Middletown area there's a good chance that you've already spent some time thinking about the best location, and what features you want to build into your new home. Maybe you've even put a fair amount of thought and effort into the kind of floor plan you want.
Dreaming about what your house will look like is the fun part! At some point, however, you're going to need some professional help to turn those dreams into reality. The good news is that you'll have choices among a number of custom homebuilders in the Middletown area. But how do you make your choice? What criteria should you use to pick one builder over another? While a lot of things can factor into your decision, here are two things that are essential for you to consider.
Reputation: Building a custom home is too big of an undertaking to entrust to just anyone. You'll be spending a significant amount of time, energy, and money to build your home the way you want it. That means you'll want to select a builder with a reputation for delivering quality. And you want a builder that understands custom homes—not just cookie-cutter style houses. When you start interviewing builders, ask them to show you what they've done. Make sure you like what you see. When they give you references, make sure you check a few of them out. Ask the homeowners how happy they are with their home. And ask them to describe what it was like to work with the builder.
The Comfort Factor: One of the most critical factors in choosing a custom builder is whether or not you feel comfortable working with him. This doesn't mean you and your builder will necessarily become best friends, or that you'll invite him over for family movie night. But building a custom home means you will be spending a fair amount of time together. You'll need to make decisions together. You'll have to solve problems together. You want to make sure you're dealing with someone that listens to you and understands what's important to you. Make sure you're comfortable with the fact that your builder knows your vision for your home and will bring his expertise to bear to make your vision a reality.
A lot of different parts go into building the home of your dreams. Your builder is the one who will be responsible for pulling all those parts together and making the dream happen. Whatever else goes into your decision about which custom builder to choose, make sure you select someone with a reputation you can count on and someone who listens and understands what you want.