The Best Storm Door for Your Connecticut Home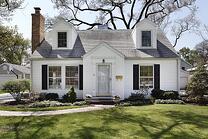 Cold wintry weather is fast approaching and it's time to start thinking about preventing chilly drafts in your home. One of the best ways to do that is to have the right storm door installed. There are specific ways to determine which storm door fits your needs.
First, think about the climate in your area. Does it get cold enough to warrant a storm door? If so, now is the time to address the issue and find the right professional contractor to install it properly, well before it starts snowing regularly. Here are a few types of storm doors to consider:
Full view storm doors are made up of a sheet of glass enclosed by a sturdy outer frame. This type of door often allows you to replace the glass with a screen during spring and summer. If a great deal of sunlight in your home is a priority for you, this is an excellent fit, adding a look of elegance to your front door for the winter months.
Traditional storm doors, like the two-panel or crossbuck varieties, have a glass or screen upper panel accompanied by a lower panel that's usually made of wood or metal. A two-panel door has a pair of vertical raised panels, while a crossbuck has a raised "x" shape in the bottom portion of the door. You can find these doors with or without decorative designs in the lower panels.
Then, there's the self-storing storm door, which allows you to slide the upper glass panel down in the lower portion of the door, leaving a screen intact, which lets in more air for circulation.
Today's storm doors are most commonly made of durable and rust-free materials such as aluminum and vinyl. Storm doors are available in wood, if you prefer a door that blends in with the design of your house, however, they can require more maintenance such as frequent painting or staining. Whichever style or functional storm door you choose to have installed in your residence, these doors will add a great deal to your enjoyment of the long winter months, keeping you and your family warm and comfortable.