What a Water Feature Will Bring to Your Home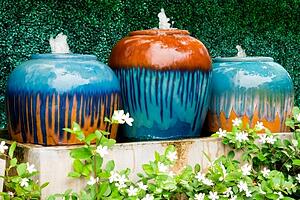 Who doesn't appreciate the beauty, peace, and ambiance that a water fountain brings to a home? Understandably, many home owners assume that having their own home water system is out of their financial reach. Here at Sunwood, we would like to invite homeowners to suspend that assumption for the time it takes to read this post. We invite you to consider the possibilities.
Inside or Outside?
Water features can be installed inside or outside. Water features bring homeowners many benefits, such as the creation of a zen-like effect, entertainment value for guests while expressing your style in a unique way.
Installing a water feature inside the home comes with a variety of options. You may choose a stream running through the floor, a contemporary pool in the foyer, a waterfall, a wall ceiling to floor fountain or a fountain with a statue. There are options to add rocks, greenery, colorful tiles, animal life, seashells and more.
You may prefer to place your water feature outside, however. It may be a small pond, a garden fountain, or a waterfall. The soothing benefits of circulating water are well worth the investment.
The Calming Effect of Water
Water has a calming effect on our nerves. Coming home to the soft, pure sounds of a home water feature can ease frazzled nerves after a long day at work. Children may find it easier to focus on homework and many find benefits from water's calming effects as well. Indoor and outdoor water features tend drown out annoying noises such as lawn mowers, leaf blowers and pet noises from a neighbor's yard, which also contributes to peacefulness.
Water is a Natural Humidifier
Water features are natural humidifiers. They add a comfortable amount of moisture to the air, which is good for hair and skin, prevents wood furniture from becoming dry. Some people find water features can help them feel cooler and more comfortable during sweltering summer days and can provide a welcome respite from the heat.
Aesthetic Appeal
Whether you decide to place a water feature inside or outside of the home, you will appreciate its beauty on a daily basis. You may admire the clean crispness, the continuity, the adaptability or the plant or animal life. The water feature may even become a place of introspection or meditation.
A Water Feature Adds Harmony
For those who believe in the importance and impact of "energies," a water fountain is said to promote positive "chi and bring harmony to a home or office according to Feng Shui principle. This is just one of the many documented benefits of indoor waterfalls.
Adds Home Value
Carefully planned water features can add significant value to a home. Indoor water features are highly sought after in today's competitive real estate market and can be a key selling point to potential buyers. Outdoor landscaping, including waterfalls, koi ponds or other water features, can make your home the envy of the neighborhood, while increasing its overall value when it comes time to sell.