New Must-Have Kitchen Gadgets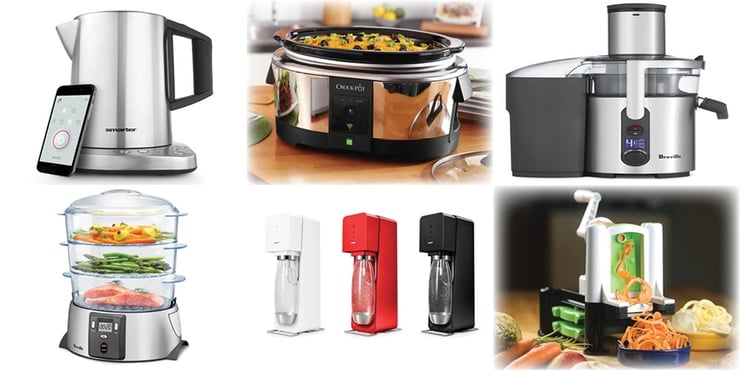 There is no question that the overall design of your kitchen has a huge impact on how comfortable, functional, and enjoyable your kitchen will be. Here's a post that reminds you about some of the essentials you need to consider when planning the perfect kitchen. On the other hand, however, a lot of us like to have fun in the kitchen! Here's a look at some of the new must-have kitchen gadgets that can make your kitchen more fun—and efficient! Best Buy has them for about $150.
Tea-Lovers Rejoice
While a lot of people love their cup of coffee in the morning, there are many who prefer a nice cup of tea. The Smarter Kettle is a Wi-Fi enabled kettle that actually lets you pre-boil your water from wherever you are. If you're working in the study or the laundry room, you can have your water boiling before you walk into the kitchen.
The Crock-Pot Reinvented
Crock-pots aren't really new, but this new Crock-Pot Slow Cooker with WeMo lets you set the temperature in the morning and then check progress throughout the day via your phone. You can also turn it off even if you're out of the house. Plus it looks a lot nicer than the old crock-pots we remember! Amazon has a variety of sizes starting at about $120.
An Easy Way to Get Your Greens
We know that things such as kale, collard greens, and spinach are good for us, but not everyone is a big fan of eating heaping helpings of them. Now there's a way to get your greens by juicing them with the Berville Juice Fountain. This unit will run you about $150 at Williams Sonoma.
Soda Bubbles Without Added Ingredients
We know it's a good idea to drink plenty of water, but some of us miss the refreshing bubbles that clear the back of our throats. Now you don't have to pay exorbitant prices for store-bought carbonation. The SodaStream lets you make your own for only a few dollars a month—and you can use whatever flavoring you want without all the additives. You can pick one up for about $80 on Amazon.
Make Healthy Veggie Noodles
If you love pasta but worry about the calories and the carbs, there's a healthy new alternative. The Paderno Vegetable Spiralizer lets you make curly "noodles" from veggies! It comes with a variety of blades (for different cuts) and is popular with a lot of cooks. Bed Bath & Beyond sells them for around $30.
Want to Bail on Your Blender?
Maybe you've had times when you want to mix something simple like a cup of soup or a smoothie—but you don't because you don't want the bother of cleaning your blender after you're done. With Cuisinart's Smart Stick blender that's not a problem. This hand-held blender is powerful and easy to use. And the shaft comes off with the press of a button for easy cleaning. You can get one for about $28 on Amazon.
This is just a handful of the new kitchen gadgets that can help make your kitchen fun again. Leave us a comment and tell us about your favorite new kitchen gadget!