3 Tips To Turn Your Wallingford Basement Into the Perfect Home Office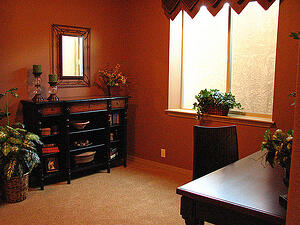 Working from home is an increasingly viable option, as companies realize employees can be extraordinarily productive with a better work-life balance. Businesses can also cut overhead costs by reducing office space.
Who needs the doldrums of a cubicle and the drone of the A/C when you can work from home in the privacy of a basement office? Pets, children and spouses are more accessible from a home office, and many telecommuters have greater flexibility with their work hours.
Working from a home office can allow people the freedom to attend family events and concerts, and control their atmosphere. Office life is not very ergonomic, and workers who want healthier conditions have the option of decking out a basement with a treadmill and décor that is easy on the eyes.
Take a look at some of these ways to turn a basement into an office that yields a rich work life.
1. Clearing out the dream space
Basements can be the perfect place for a home office. They are typically removed from daily life—nowhere near where the children and pets play, and away from social spaces like dining rooms and kitchens. This can cut down on distractions, which creates an excellent barrier between personal and work commitments.
However, before you can build your dream workspace, some home renovations must be completed to create the proper space for the new office. This means cleaning the basement will be the first step.
Depending on how long an individual or family has lived in the house, basements are usually filled with clutter. People use them to store family heirlooms, junk, and appliances they may use "one day." Having this clutter linger in the basement will create a poor work atmosphere, so get creative with alternative storage options.
Closets, shelves and empty spaces upstairs can provide room for some of these items. Visit storage and hardware stores to find room-saving hangers and containers for additional belongings. Host a garage sale to get rid of sellable junk and put the money toward new office equipment. Consider donating items that are unnecessary.
2. Office equipment and tax savings
Many people who begin to work from home don't realize they can deduct home office expenses on their taxes. Employees who complete the majority of their work in a basement office, or meet with clients in this space, may be eligible to deduct certain expenses.
Get a measuring tape and calculate the square footage of your home office. This is a key factor in calculating potential deductions. Electricity, water, phone service and Internet bills can be deducted, based on the percentage of your home that you use for work.
Home office workers need to save receipts for all office purchases. This includes desks, chairs, shelves, filing cabinets, paper, books and other miscellaneous supplies like tape and pens. Receipts from business trips and client meetings may also be deducted.
It is very important to check in with a tax specialist during your first year of working at home to maximize eligible deduction credits.
3. Learning a new set of rules
Working from home can be a refreshing experience, especially for those who have never done it before. However, one must develop a very different mindset in order to work effectively at home.
Since hours become more flexible, you have to make sure to set limits. There is no "going home" to separate oneself from work duties, since the office is always there. Work can easily seep into every waking moment.
Set clear boundaries with your family to minimize distractions and make sure to communicate well with your employers. Keep a log of regular office use and receipts for tax filing later. Focus on making the transition smooth and enjoy your new home office!
Photo credit: http://www.flickr.com/photos/circagroup/3303613689/