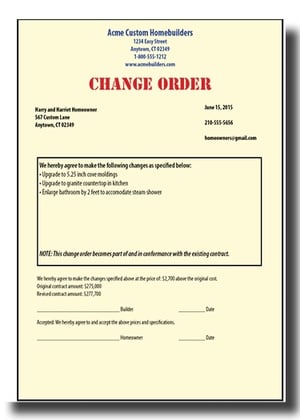 Part of the nature of building a custom home is that you can adapt your plans as you work your way through the building process. Even though you may have a pretty clear idea of what you want at the start of construction, there's still the possibility (OK, it's more like a probability) that you'll want to make some modifications. After all, this is your chance to get things the way you really want them from the start.
So, is it a big deal to make changes once the building process has begun? That's a bit of a loaded question. It depends, of course on the character (scope) and the quantity of the changes you request. And that's why smart builders (and smart homeowners) rely on change orders.
Sometimes what seems like a minor change can actually have a significant impact on the process. Maybe you want your builder to move a wall six inches so that your kitchen can accommodate different cabinets. Six inches doesn't sound like much, does it? But depending on where those six inches are (and what else might have to be moved) it could be a big deal. Or maybe you want larger windows in the family room to let in more light. If it's a custom sized window, you could be looking at a significant increase in cost.
The change order protects both you and your builder. You'll both know (and agree) up front on exactly what the change will cost. That way, nobody gets surprised when the final bill comes.
There are times, too, when the changes you request can affect when the home will be completed. Special orders, or re-doing something can push the completion date out. A change order let's everybody know if a change will impact the schedule.
So if you request a change and your builder presents you with a change order to sign, relax! It's a good thing. It helps you understand exactly what your changes will cost and helps you stay on budget. Change can be a good thing, but it's important that you and your builder stay on top of any changes so that you get exactly what you're asking for and to avoid misunderstandings and confusion.
Learn more about the home-building process and things that can change your timeline.