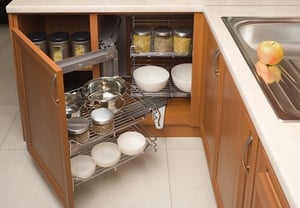 There's no getting around it, is there? The kitchen is probably one of the most-used rooms in your house. Yet you're always feel the need for additional storage space.
Whether you live in an already-existing home or you're having a new one built, make sure that, once you move in, you'll have the space you need—or at the least, the ability to use your existing space wisely.
Creative Storage Ideas
You know the scenario: You have a particular baking dish, bowl or cookie sheet you need, yet you hate, hate, hate having to reach into the furthest reaches of your cabinets to grab and pull it out. Or you just know you have lids that go with the leftover containers you're filling—but they're hiding. Yes. It's hair-pulling time.
Get creative! If you're getting ready to remodel your existing kitchen or having a whole new house built, make triple sure that your builder knows about your need for kitchen space and convenience of use. Let him know you want to use every inch of usable space. Rather than installing cabinets with doors that swing out, ask for pull-out shelves that have lips on the outer edges. Store shallow items in here.
Those Unused, Narrow Spaces
Holding an armful of baking items you want to store, you look desperately all around your kitchen, muttering, "Where can I store all of these things?" It's probably about this time that you decide you're going to get someone in to build a really narrow cabinet so you can put the cookie sheets, baking pans and pie plates that you use regularly.
Think about it. If that narrow, 6- or 7-inch space can be converted into a tall cabinet, it'll be so easy for you to reach in and pull out the baking sheet or cooling rack you need. If you prefer, you can also have several shelves added so that the lower half of this new cabinet becomes a wine rack.
Install a Pantry Wall
You may have been looking at that blank space in between the refrigerator and the counter, thinking, "Hmmm, I'm sure I can use this area for more than just hanging pictures."
Good thinking! You're right. A contractor can easily break down this wall, as long as it doesn't provide weight support. This space can become a floor-to-ceiling pantry that enables you to store food items or cooking/baking implements. Just imagine: You'll be able to open the doors of this pantry to get what you need without having to get on your knees to struggle to find what you need.
Inexpensive Storage Ideas
If you're not able (or you just don't want) to remodel your kitchen, use other imaginative storage ideas for your kitchen. These can include:
A shelving system for additional storage
Use a narrow office file storage system to hold those plastic water bottles
Install a hanging folder holder on an inner cabinet door. Store those disappearing container lids
Two words: Floating shelves
Create smart storage space in a pull-out drawer with expanding tension curtain rods. Store lids and water bottles upright
Small plastic and straw baskets can hold bags of food and snacks in the pantry
Small wire baskets can separate meats in the freezer
Install a

thin, metal pegboard

and hang folding shelves and hangers
There you have it. It is possible to create existing space in your kitchen. Start looking at the possibilities!