6 Ideas to Update Your Mantel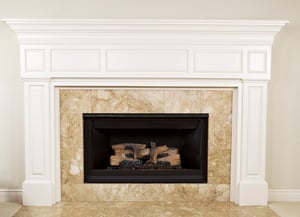 Winter is just around the corner, and that means that the time is nearly here for your fireplace to become a major focal point in your home. If your mantel is looking tired and outdated, then you might want to update it before there is snow on the ground and hot cider to be shared. Our remodeling tips will help you decide on a new look.
1. Install a Ready Made Mantel
If you have a plain brick, tile or sheet rock surround for your fireplace, then you can purchase a ready-made mantel that you can assemble and install yourself with little more than a screwdriver and an afternoon. Ditto if you have already removed your existing mantel. Choose a style, install and you are done.
2. Install a Weathered Wood Mantel
A large slab of live edge wood or reclaimed, tooled wood makes a great mantel. Cut to size, clean off any major splinters and burrs, and apply a few coats of heavy-duty stain and sealant. Once dry, you can install by finding the studs, and using bolts to create a floating shelf.
3. Opt for a Salvaged Mantel
A salvaged mantel is another ready-made solution that can transform a boring fireplace in an afternoon. Visit demolition sites, antique stores and online classifieds to find a salvaged, antique mantel that suits your fireplace opening. Clean it up a little, install it, and you are good to go.
4. Use Preformed Molding
Probably the quickest, easiest solution to create a mantel in no time is to use preformed architectural moldings. Combine a few until you get the look you like, and then fix to the bottom of a simple floating shelf. Paint the shelf and the moldings a solid color or a pattern, and install the floating shelf above the fireplace. When you get tired of the look, just change it out for something else!
5. Tile the Surround and Hearth
If your mantel is okay, but you want to change the look of your mantel fast, then switching out the tile surround and hearth tile is a great way to update your mantel in a weekend. Carefully chip away any existing tile and tile cement, and clean the surface. Apply new tile in your choice of shade and pattern (glass mosaic sheets are quick, easy and look great!) Allow to dry thoroughly before using the fireplace, and don't forget to choose tile that is heat resistant!
6. Apply Faux Stacked Stone
Another way to update the surround of a fireplace where you don't hate the mantel (or where you don't have one) is to apply a faux stacked stone product. These are available in sheets, similar to mosaic tiles, as well as in panels. Again, be sure to get a heat resistant product!
Updating your fireplace and mantel does not have to be time consuming or expensive. Small changes can sometimes make a difference to the look and feel of a room or even a whole house. Even something as simple as restaining or repainting your existing mantel can make a huge difference, but we hope you've got some inspiration from these ideas.