Kitchen Remodeling News You Can Use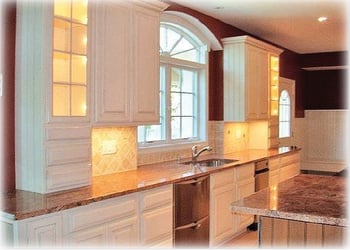 What's new in the world of kitchen remodeling and renovation? That's what the folks at Kitchen Cabinet Kings wanted to find out, so they surveyed kitchen design experts and asked them what they considered to be the newest kitchen remodeling trends.
While you'll want to make your own choices about what to do in your kitchen, it can be helpful to glean ideas from other sources. With that in mind, here's news your can use from what the experts observed (and you can read more at: www.kitchencabinetkings.com)
Going green is the most popular trend in kitchen styles. Homeowners still want their kitchens to be stylish, eye-catching, and welcoming. But now that want to accomplish that in an energy-conscious and environmentally friendly way.
Stainless steel is the newest trend in cabinetry. Right behind stainless they saw recycled material, maple, birch, and walnut finishes.
Reclaimed wood tops the list of trends in flooring. Reclaimed wood material is followed closely by bamboo, hardwood, and natural stone surfaces.
Engineered stone is the trend leader for countertops. It may come as a surprise to some homeowners that concrete was the second choice by the experts, followed by granite and stainless steel.
Metal finished units lead the trend in refrigerators. The experts found that no matter what finish homeowners chose, the consensus is that people want to integrate a sleek, sophisticated look into custom cabinetry when choosing a large appliance such as this.
Induction cook tops top the list of trendy cooking surfaces. A close second to the induction cook tops were gas top units. The experts all said safety was a key feature with child safety locks and easy-to-read-and operate controls as "must have" items.
The trendiest kitchen island is having a table as island. This narrowly beat out having a cooking center island. Regardless of what kind of island is installed, say the experts, easy-to-reach outlets are an indispensable feature.
Does this suggest that you have to move in the same direction as the "trendy" folks? Not at all! Maybe being trendy isn't all that important to you, but seeing what's popular can give you some ideas. And it's something to keep in mind for resale value down the road.