Building or Remodeling for Multi-Generational Living in Wallingford
Nuclear family living didn't become a "thing" until after the Great Depression. Before then, it was common for several generations to live under the same roof, supporting one another through shared housework, financial resources, and community.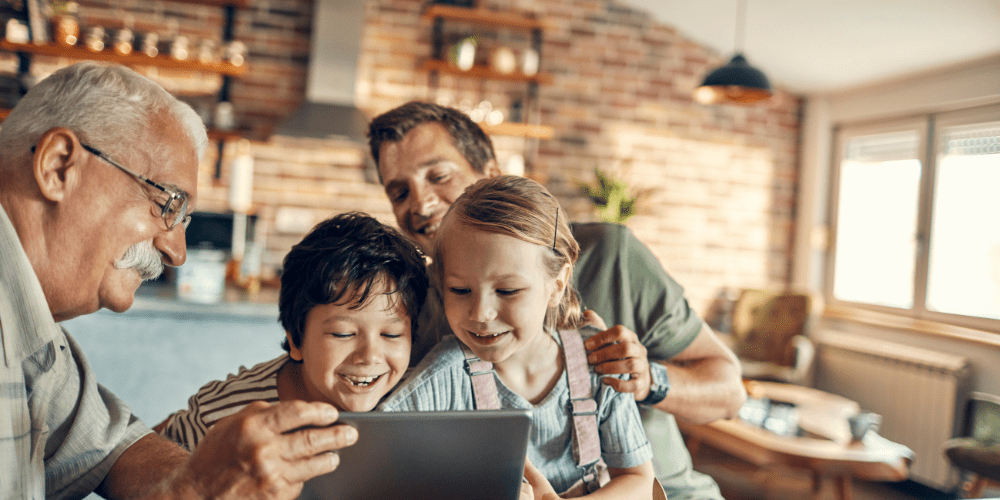 Now, the trend of multigenerational living is back. Adult children are living at home to save money while they get on their feet, and elderly parents are moving in with their middle-aged children to be close to family as they grow old. It also helps that multigenerational living makes fiscal sense, especially with an up-and-down market making it difficult for many to afford the house they want; combining funds with multiple family members can remedy that problem.
Over the years, we've seen more of our clients at Sunwood Development adopt this style of living. Today we're sharing the tips and tricks we've learned to help you achieve a successful, harmonious multigenerational home.


What is it Called When Multiple Generations Live in One House?
First, let's define multigenerational living. It's when two or more generations of a family live under the same roof; this could be adult children living at home with their parents, aging parents living at home with their children, kids living with their grandparents, and many more scenarios.


How Do You Build a Multigenerational Home?
You have lots of options when designing a multigenerational home. Some extended family multigenerational house plans include a separate guest cottage; others create a home within a home with a full-furnished in-law suite located in the basement or other secluded zone.
Here are a few of the most common multigenerational living situations we've come across:


In Law-Suite
In-law suites are generally attached to the main house by a short breezeway or located inside the house in a basement, refurbished garage, attic, or first floor. They are a small apartment-like set-up with a kitchen, bedroom, living area, bathroom, and entrance and exit separate from the main house (for privacy). Some may also include a laundry room and outdoor living area. In-law suites are one of our most common multigenerational requests, with many of our clients enacting a long-term plan to move their 60-year-old parents in with them so they can spend time with their grandchildren now and will close by when they need additional care as they grow older.
Two Master Suites
Often, homeowners will put the two suites on opposite ends of the home or separate floors to create privacy for both couples. The suites include sleeping rooms and private baths, while social spaces such as the kitchen, dining room, and family room are shared.
Guest Cottage or ADU
An accessory dwelling unit is a small cottage, sometimes less than 1,000 square feet, that stands separate from the main house while remaining close. This option is excellent for the adult child accustomed to their privacy, so they can come and go at will. It can also work for the homeowner's parents, especially if they still have some independence.
Living Suite
A living suite is probably the simplest multigenerational home renovation to make. Just knock a hole in the outer wall of one of the bedrooms and add an exterior door. Having their own doorway allows the occupant of this room to come and go without disturbing the other occupants of the house.


Tips for Making Multigenerational Home Design Work
Whether you're contemplating building a new home or remodeling your existing home, the key to continuing living in sanity with so many family members around is to consider everyone's needs.
Here are a few features that most successful extended family house plans include:


Privacy
Privacy is, naturally, a big issue. Adults (young or older) want a sense of independence. That's why an en Suite arrangement (bedroom and dedicated bathroom) is a good solution. Some homeowners even build in a sitting room or small family room to allow even more personal space. And while many families continue to enjoy meals together, some individuals include a small kitchen or kitchenette to allow extra privacy.
Safety & Accessibility
The people in multigenerational homes often have different needs, which may change over time. Just because your parents are mobile now doesn't negate the possibility that they could need a walker or wheelchair in the future. So ask yourself: Are your existing hallways wide enough to accommodate walkers or wheelchairs? Will older family members have to negotiate stairs — or can you devise a plan that allows single-level living for mature family members? You'll even want to consider the light switch, countertop, and vanity height.
Avoid Common Mistakes
Keep in mind that whether you build a new home or remodel your existing home, you are doing more than simply adding space. You're trying to meet the different needs of a variety of people. That's not impossible, but it doesn't happen without planning. It can be easy to overlook some challenges, such as: How to protect privacy, what to do about parking if you add vehicles, and ensuring ease of access to the home or living quarters.
You also don't want to forget the potential for increased utility usage. The water heater that adequately provides for two or three people may not be able to keep up with five or six. If you add a room in the basement or the attic, will your HVAC system be able to keep things comfortable?
Collaborate & Determine Family Roles
Multigenerational living can be a great thing, but before you jump in, you'll want to make sure it's a solution that makes everyone happy. Even if it seems to make sense financially, you'll want to ensure all the involved parties are on board. You want everyone to be comfortable in the space and feel at home. A significant first step is to have everyone sit down and discuss their expectations. That also is a great time to discuss responsibilities and bills.
Think about your family dynamics. Do you generally get along well together? Do you have a history of being able to resolve conflicts comfortably? There will be adjustments. Make sure that everyone understands what those will be. It's essential that you get everyone on the same page when it comes to expectations.


Building or Remodeling a Multigenerational Home
Whatever your family situation, creating a home that will work well for all of your family members isn't something to take lightly. And it's not a process you'll want to tackle alone.
Partner with Sunwood Development for your Wallingford remodeling to create a home where all the generations of your family can grow and thrive.