20 Things You Need to Know About Siding, Cladding and Facing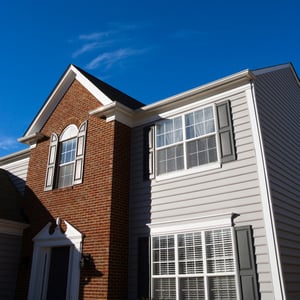 Siding, cladding and facing take up most of the exterior surface area of your home. They play a part in the appearance and operation of your home, but how much have you really thought about them other than their appearance? We have a few interesting facts about siding for you to think about:
Vinyl siding can be green! If you recycle vinyl siding when you replace it, you can keep your home greener.
Insulated siding products can increase your home's R Value (thermal resistance) significantly.
Vinyl siding is one of the lowest maintenance types of siding materials, and it also generates the least scrap during installation, with typical waste at less than 2%!
Manufactured products tend to have longer lifespans than natural products like wood, and contrary to popular belief, inert products like vinyl may do less damage to the environment than treated wood or other products.
There are special cold cutting blades that should be used to cut metal siding products. These blades do not create 'swarf' or hot steel, which then lands on steel, creating burned areas that are prone to rust.
Composite siding products often contain recycled materials, which makes them an ecofriendly choice.
Most man made siding products have life spans of 25 years to life, and are covered by lengthy warranties.
Fiber cement board siding, unlike vinyl, can be painted and stained. So if you do like to change the look of your home from time to time, it is a good choice.
Clay brick is another green building material choice, because clay brick is manufactured from natural materials.
Unlike most other cladding materials, bricks have been in use for at least 5,000 years!
Brick is a non-combustible material.
Brick veneer wall systems offer superior moisture resistance, which can help to limit mold growth.
Brick is one of the longest lasting building materials, as long as it is properly installed.
Brick is a great insulator.
Many stacked stone veneer products are actually sheets of veneer rather than actual stone.
There are stacked stone products that are manufactured from colored concrete, as well as natural options.
Manufactured stone products can cost up to half as much as what natural stone products do.
Cladding in residential developments is often regulated by architectural guidelines. If you live in a planned community and you want to change the siding on your home, be sure to find out what is allowed and what is not!
Stucco finishes can be painted (although it may affect the moisture wicking of your home, so be cautious about product choices!) The amount of paint required will depend on the finish. Heavily patterned stucco finishes can use many times more paint!
Other siding options include copper, aluminum, cedar shingles and terracotta tile.
There are big differences in price and longevity when it comes to siding and cladding. Be sure to research your chosen products carefully, and make sure you hire a professional to install any products that require technical skill. The last thing you need is siding that does not do its job correctly!