3 Reasons to Build a New Home in Middletown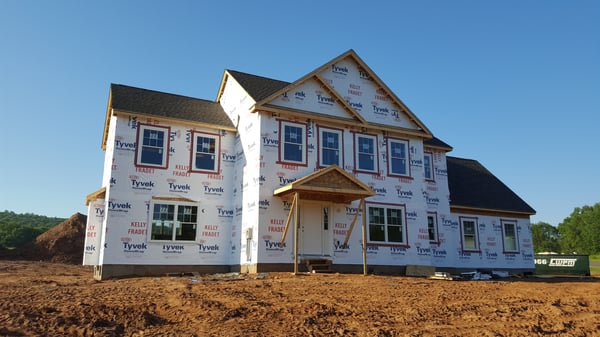 Many of us have been watching the improvement of the economy for some time. And some of us have been particularly interested in the steady growth of the housing industry. Of course, it's not just builders who watch what's happening with new home stats, because what happens there affects the economy as a whole.
There's another group of people, however, who've also been watching the economy and the housing market: people who have been considering building a new home. And some of these individuals are wondering if time is running out, or if they've missed the best opportunity to start a new home. Maybe you're one of those people.
To be honest, there's really no cause for panic. On the other hand, there are some reasons why you don't want to miss the opportunity to get going on a new home now. Let's look at a few.
Interest Rates Are Still Good.
First of all, let's make a disclaimer. Builders aren't bankers or economists. We're not going to predict where interest rates will go (the guys who do that for a living have a hard enough time getting it right!). We're also not in the business of giving financial advice. Still, the rates right now make it relatively inexpensive to borrow money, and it's hard to imagine that prices will drop. If you're waiting for better rates, you may miss the boat.
Related: Should I Build or Remodel?
Housing Prices Are Still Good.
Some areas are starting to see an upward movement in housing prices. That's pretty normal when pent-up demand grows. And because inventories on houses have been low, the demand is likely to outstrip supply because you can't crank houses out on an assembly line. But if you're waiting for home prices to go down, it's probably not going to happen.
Builder Availability Is Good.
There are actually two aspects of this that should interest individuals looking to build a new home. We're headed into the busy building season. That means builders will have less availability. The first thing that says is that it may be harder to get the builder you want. What usually happens when the housing market starts to heat up is that the best builders are the first ones to get booked.
Homeowners who wait also may not get the schedule they want. If you decide to hold out for a particular builder (because of quality, style, and way of doing business), you may have to wait until they complete another project before they can get going on yours. And when it comes to quality home building, merely bringing in more hammers and saws (and of course, the people to wield them) doesn't necessarily give you the results you want. Good quality takes time.
Is the clock running out on your plans to build a new home? Not necessarily, but if you're waiting for better interest rates and better pricing, those probably aren't right around the corner (if they come at all). And the longer you wait to get started, the longer you'll have to wait to complete your new home.
The decision to build is yours and yours alone—and you shouldn't feel pressured by anyone to get started before you're ready. Just make sure you're not waiting for things that probably aren't going to happen any time soon.