Choosing Roofing Styles for a New Middletown Custom Home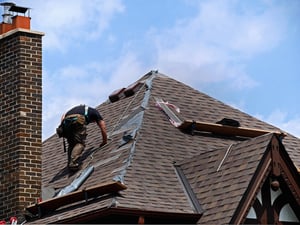 Deciding on a roofing style for your home is a big decision, so it's a good idea to take some time and consider all your options. You need to consider the cost, time, environment, materials and the style of your home. You can't just randomly choose something, throw it on top of the house and call it good. Instead, you need to take time out of your life to do research on a project that isn't even all that much fun! So let's get straight to it and make it as easy as possible for you.
There are 5 types of roofing materials you can pick from and not all of them will work for you.
#1: Asphalt
You're probably familiar with asphalt, simply because it's the most common roofing material. Up to 75% of American homes have asphalt roofs, partly because it's cheap, easy to install, and pretty durable. There are two types: single-thickness variety and then a thicker laminated one. Both are good options, except asphalt shingles have less insulation properties and they don't have a very long lifespan. However, they can be used for any architectural style.
#2: Wood
Wood has been a favorite for centuries, and is used most commonly for ranches, cottages, bungalows, historic and contemporary homes. It can be a great option for you but you will need to check with your fire codes first. Your most common options of wooden roofing materials are cedar, redwood or southern pine. Like asphalt shingles, they typically last around 25 years but they are generally more expensive to install.
#3: Metal
Who doesn't love a metal roof? Listening to the rain pour down on a metal roof can be one of the most relaxing things in the world (or not, in that case, you should not pick this material). Metal roofs such as aluminum, steel, copper, copper-and-asphalt and lead are strong and durable, although expensive. They're often used for bungalow, ranch, contemporary and cottage-style homes and are manufactured in long sheets of metal rather than shingles (although lead and copper/asphalt are usually in shingle style).
#4: Tile and Cement
These types of shingles are not so common in America but more common in the Mediterranean and Europe. This is a good option to consider if your home conforms to one of these styles, or for a unique twist on a contemporary or ranch home. The half-cylinder tile roofs are typically used on Spanish Colonial and Mission styles and cement usually ties to imitate this wavy effect that tile has. This is a more expensive option than metal but has a longer lifespan.
#5: Slate
More durable than tile, cement or metal, slate is one of the strongest building materials used for roofs. It's also the most expensive choice. Used on Colonial, French and Chateau styled homes, it gives homes a unique look that is difficult to imitate. There are lot of different types of slate used and can last for hundreds of years with only needing the fasteners replaced. It definitely is worth the money.
Deciding on the type of roof for your home can be a tedious task but knowing what style your home is and which option goes best with it can make it easier. So do your research, talk to your friends and family, go for a drive and look at other people's roofs. Talk to your home renovation contractor and your designer, and go with the option that makes the most sense to you.