New Year, New Yard: Landscaping Ideas for 2016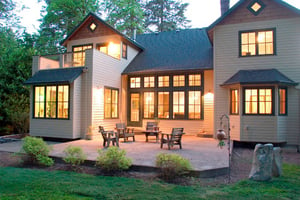 It's nearly that time again. Time to move your entertaining outdoors, and enjoy sunshine and fresh air while burgers grill and kids play. If your back yard is looking a little tired and needs a face lift, then these great landscaping ideas might be just what you need to get your outdoor space looking great:
Planning a retaining wall? If you build one this year, make sure you face it with stacked stones, for an English country garden look and feel that will add to your yard's appeal and your home's value.
Create patterns on paths by using large concrete pavers in interesting shapes, and surround them with gravel. If you're feeling very industrious, or you have help on hand, you can box out your own designs and cast concrete yourself for a one of a kind look.
Use uplighting to turn trees in your yard into magical night time décor. You could even use solar lighting, so no wiring or installation is necessary.
There's a huge trend to creating beautiful, nature inspired water features. So whether you've always wanted your own stream or a little waterfall strikes your fancy, this is the year to bring water into your back yard.
Natural products are big, with items like coral stone pavers hitting the market, but there's also still a strong trend towards man-made materials like manufactured stone products, and some are so realistic that you wouldn't be able to tell the difference.
Exterior "rooms" or areas where decks and outdoor living are taken to the next level with furniture and décor, are another big trend. Make sure that the non-weather resistant items are easy to remove or protect though.
Permeable paving, or strips of cast concrete paving interspersed with grass or other types of plant based ground cover are another big trend, particularly for modern homes. The alternating patterns of grey concrete and green vegetation can create a striking visual on driveways, walkways and patios.
Outdoor fire places and fire pits remain a big trend this year. Make sure they are properly constructed from fire resistant materials, and that they're located a fair distance away from your home.
If modern is not your thing, you're in luck. Old fashioned garden items like fountains, flower beds and hedges are also big news this year, so whether you prefer classic American, English country garden or Provençale style chic with lavender and urns, you can go classic and still be right on trend.
Paved areas, particularly stone flagged sitting areas, entertaining areas and dining areas, are big news this year. The stones themselves vary according to taste, and these areas are often combined with pergolas and awnings to create shady, cool and comfortable areas to spend time outdoors.
Potted trees are a great idea. One of the biggest problems with trees near your home is that their roots tend to seek out (and usually find) your water and sewer pipes, and that can cause big, expensive trouble. This year's trend towards trees in large pots or planters is a great way to get around this problem. If the roots are contained, your plants are safe!
Whatever you choose, outdoor living and landscaping offer some exciting new ideas this year, and you really can personalize your outdoor space just as much as you can indoors.