Super Deck: Upgrades That Take Your Deck to the Next Level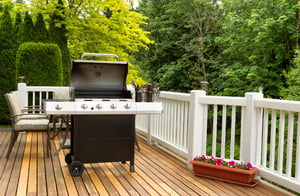 Many people focus on the inside of their home when they consider remodeling. That makes sense, particularly if it's been a while since your home was upgraded. However, once the inside of your home is looking great, you may want to turn your attention to the exterior of your home to really transform it into your dream space.
Outdoor living is becoming more and more important in the U.S., and many Americans consider their outdoor space to be additional "rooms" they can use to entertain family and friends. Your deck is a big part of that, and if yours is somewhat basic, it might be time for an upgrade. Here's what you need to know about creating the ultimate deck.
Assess the Structure
Before you make any improvements to your deck, you do need to make sure the structure you're working with is sound. There are lots of cosmetic upgrades you can do to a deck that's looking a little weathered, but if it's rotting or poorly built, it's better to start from scratch.
Create Designated Areas
Great decks have distinct areas for different activities. There may be an area to lounge in the sun and a shaded area more suited for conversation. You might add a designated dining area, placing it near the outdoor kitchen section.
A great way to create these areas is to use different levels. A few steps up or down to each level will create separation while still allowing everyone to enjoy the space together.
Add a Pergola or Awning
One of the best additions you can make to a deck or an outdoor kitchen is an overhead cover, filtering out all or some of the sun's heat and light. Even sun worshippers need somewhere to relax on sunny days, and these areas are great for kids and others of us who shouldn't get too much sun.
Add Privacy Paneling
Even if your home has privacy fencing around the back yard, neighbors and passersby might still be able to see part of your deck. No one likes to be watched while they're relaxing, so adding lattice or a creative privacy screen is a great way to create a secluded and cozy outdoor space.
Maintenance-Free Materials
Finally, if you are thinking of deck upgrades and exterior additions, then consider long-term maintenance as part of the remodeling process. Next-generation composite materials, vinyl and even recycled products can be used to create the look you want. As a bonus, they will never need to be painted or stained and can be cleaned with a hose.
If you are investing in your backyard, it may be worth spending a little more to get zero-maintenance finishes and materials so you can enjoy your deck without any work.
Bring On Summer!
Whatever you choose to do to your deck or other outdoor area, it's worth considering landscaping options, exterior upgrades as well as interior remodeling. When your backyard is a great place to entertain, you'll look forward to summer even more!