Which Wallingford Renovation Projects Deliver the Best Remodeling ROI?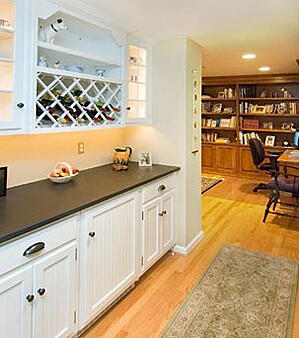 It's one thing to consider taking on a Wallingford remodeling project, but knowing which project will give you the best return on your investment can be challenging. There are a few favorites, though, which give consistently good remodeling ROI year over year, and can never be a bad investment. These are:
A new front door
New siding
Minor kitchen remodel
Deck addition
Attic bedroom
So what's the appeal of these particular projects, and what makes them such a good investment? Here's our take on the answers:
Front door: A new front door is one of the lowest-cost home renovation projects you can possibly undertake. That could be one reason for its high ROI, but there are others, too. First, it re-energizes the look and feel of your home and improves the curb appeal tremendously. The front door is guests and potential homebuyers' first impression of you, and if it's brand spanking new and shiny-bright, it delivers a visual of the home as being up-to-date, cherished and well maintained. Second, old exterior doors can be a major source of energy loss, both in winter and summer. So by replacing the door you can:

save hundreds of dollars on a year's energy bill
transform your home into a temperature-controlled environment year-round, and
do it all without breaking the bank.

New siding: It has been proved that old, worn-out siding on your home can cause you to lose up to 10% of the value at resale. Out of the long-term statistics from the Remodeling Magazine's Cost vs. Value Report, siding replacement projects take three of the top 10 remodeling ROI spots. Besides, siding that is clean and well-cared for indicates that the rest of the home is probably equally well-maintained—an instant draw card for a potential buyer.
Minor kitchen remodel: You don't have to reinvent the wheel. Or the kitchen, for that matter. A minor Wallingford remodeling project that comprises new cabinet doors, updated countertops in quartz or quartzite and a freestanding kitchen island will contribute a return of around 83% on your expenditure. Why? Because the "kitchen is the heart of the home" is more than just a cliché, and families are increasingly using the kitchen as a gathering place during food preparation, for one thing.
Deck addition: Sure, you can use a deck mainly during the summer months in Wallingford, but what a summer you'll have! Coming in with a return of 87.4% on cost, the value of a deck is second only to entry door replacement for delivery of remodeling ROI. One of the big reasons why decks are so popular is that they are a good way to expand your living space at a much lower cost (between $8 and $30 per sq. ft) than the $150-upwards it costs to add an extension to your home.
Attic bedroom: Just like a deck, an attic bedroom adds to your family's living space, and the roof, walls and floor are already there. It's just a case of finishing it off, so your remodeling costs stay lower than they would be for an addition. If your family is considering multi-generational living, then finished basements and attic conversions are your friends.
But don't take our word for it. Do the math yourself, by getting an estimate for the home renovation project you have in mind and comparing it with the data available for remodeling ROI on projects. We guarantee you won't be disappointed.