How to Choose Low Maintenance Bathroom Remodeling Materials
A bathroom remodel is a great way to increase your home's value. Bathrooms are a popular choice for a remodel, as the return on renovations are constantly increasing. Top places for remodeling include updated plumbing fixtures, a vanity, a fresh paint job, and new flooring. A remodel is a great time to incorporate low maintenance materials, as low maintenance costs will help to ensure that the remodel is a profitable investment.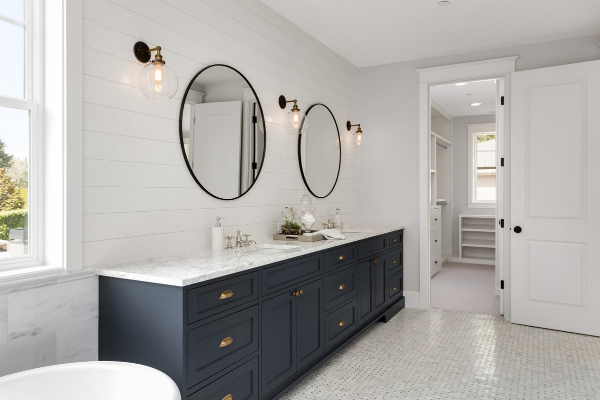 Low Maintenance Bathroom Countertop Materials
Quartz is the best countertop option, as it is non-porous and easy to maintain. Quartz technology is growing rapidly, and it can be customized to fit nearly any style with varying patterns and colors. Quartz' non-porous properties make it resistant to bacteria, as well as quite durable. The material is stain resistant and doesn't require a seal or protectant. Furthermore, those with concerns regarding the cost of quartz countertops can rest assured, as it's actually quite affordable and can mimic earth materials. Solid surface materials are the best choice overall, as it will make cleaning more simple and ensure that bacteria is not breeding on the countertop space, especially in a communal area such as the bathroom.
Related: Alternative Countertop Ideas For Your Kitchen and Bathroom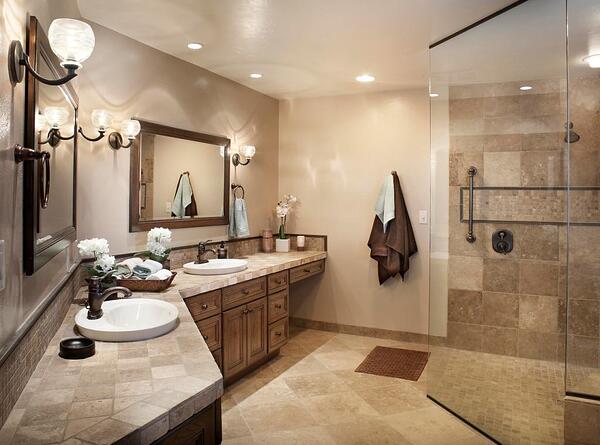 Low Maintenance Bathroom Tile Materials
Tile is the foundation of the bathroom, but can be quite high maintenance if the wrong material is chosen. Stone, for example, isn't a great choice as it requires regular maintenance of sealers. Porcelain tiles are the best option, as they are very durable and chip resistant, and they are actually less expensive than other options! Another benefit of porcelain tiles is that they have a high coefficient of friction, making them safer to navigate when wet from shower water. Another great addition to a bathroom remodel are handrails in the bathtub and shower. These home handrails made the shower and bath space safer and more accessible, adding value to your home. They are also very easy to install and you can likely do it on your own without any professional help.
Related: 13 Things You Should Know About Tiles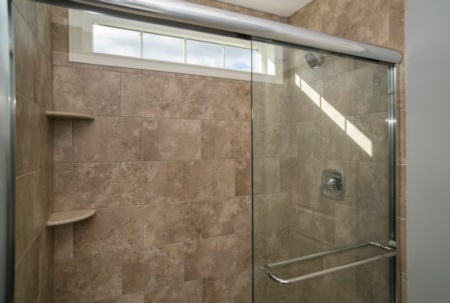 Low Maintenance Shower Walls
The proper shower wall material will make cleaning as easy as possible and will prevent buildup of unsightly mold and mildew. Color and water resistance are important considerations, as is the porous vs non-porous nature of the surface, as porous materials harvest more bacteria. Silicone Caulk is the material to avoid, as it is a magnet for mold. Fiberglass and acrylic shower walls are a great option, as they are non-porous and can be wiped off easily with a simple mixture of vinegar and baking soda. As mentioned above, porcelain tiles are also a great option for shower walls, as they can be easily kept mold free.
Related: How Much Does it Cost to Remodel Your Bathroom in Connecticut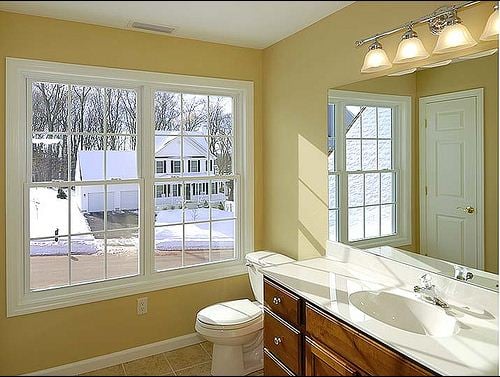 Low Maintenance Bathroom Windows
Updating the windows in the bathroom can save you tremendously on heating and cooling. Crank and awning windows are great choices, they offer great energy efficiency and can be opened in any weather if you need to air out the space. If you are not looking to replace the windows entirely, weatherproofing windows and doors will also save you money in the long run, ensuring that you are not losing any money through air loss if the bathroom door is left open.
A bathroom remodel is a great way to add value to your home. When materials are chosen properly, a remodel can save you both time and money in the long run, as maintenance will be simple. Even a change as simple as a new coat of paint will send you well on your way to making a positive investment in your home.
Jordan Swift is a contributor to the Innovative Materials blog. He is a content writer for the construction and home improvement industries with an interest in landscaping, outdoor remodeling, and interior design. Jordan is focused on educating homeowners, contractors, and architects on innovative materials and methods of construction that increase property value, improve sustainability, and create a warm and welcoming ambiance.